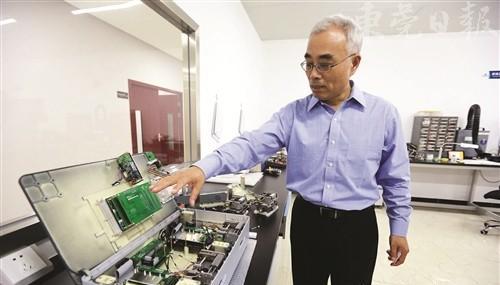 Dr. Shi Xizeng, Leading Entrepreneurial Talent of Guangdong Province, introduced the product he developed on May 15 (Photo by Reporter Cheng Yongqiang)
Five years ago, I returned to China from Silicon Valley with my technology and idea; five years later, my technology has been transformed into results, tested and recognized by the market, embracing a rapid development stage, Dr. Shi Xizeng, chairman of Bosh Bio, said smilingly on May 14.
Starting his business in Dongguan in 2012, Shi Xizeng has been successfully honored as Leading Entrepreneurial Talent of Dongguan City and Leading Entrepreneurial Talent of Guangdong Province. After years of improvement and market publicity, his products have gained increasing popularity. The magnetic-sensing immunity analyzer under development can simultaneously detect 240 tumor markers within 15 minutes.
The output value of Bosh Bio is expected to grow from RMB 2.8 million last year to RMB 20 million this year. Entering a sharp increase stage next year and onwards, the business will embrace a explosive growth.
30 Productd Developed Based on Magnetic-sensing Immunity Analyzer
In Xixi Village Industrial Park, Liaobu Town, I met Shi Xizeng and visited Bosh Bio. Relocated here from Songshan Lake half a year ago, Bosh Bio now has a business area of 6,000 square meters on the whole 6th floor of a building, 4 to 5 times larger than the original premise.
Bosh Bio is a technology company based on the flagship product of magnetic-sensing immunity analyzer. According to Founder Shi Xizeng, this set of instant medical diagnosis equipment can rapidly detect the symptoms of cardiovascular and cerebrovascular diseases, acute myocardial infarction, inflammations, and tumors.
Take tumor detection for example. Primarily dependent on chemiluminiscence equipment traditionally, tumor detection involves such steps as blood sampling, sample presentation to test center, test scheduling, result issuance, report issuance to doctor and notification to patient. It often takes several days before a diagnosis can be made.
With the magnetic-sensing immunity analyzer, however, tumors can be detected on a dozen of body parts with a few drops of blood. After 15 minutes, the test results can be seen. It has not only greatly reduced the time, but also effectively lowered the medical costs. It s high performing, highly sensitive, and portable, Shi Xizeng said.
The magnetic-sensing immunity analyzer has been massively produced, with the low-end products sold at several thousand yuan and the high-end products sold at tens of thousands of yuan to 100,000 yuan.
On the basis of the magnetic-sensing immunity analyzer, Bosh Bio has developed 30 products. Another 5 new products won the fast approval of the Food and Drug Administration of Guangdong Province not long ago. In the next one to two weeks, relevant personnel will review the quality system. Shi Xizeng is now busy with related preparations.
Brought Technology Back from Silicon Valley and Started a Business in Dongguan
A native of Cangzhou, Hebei Province, Shi Xizeng studied for his doctoral degree of magnetic recording technology in Carnegie Mellon University in the early 1990s. After his graduation, he worked as an engineer, executive, vice president in Silicon Valley, and raised funds to start a business.
At an international medical equipment industry exchange around 2007, experts and scholars from various countries studied the future development of medical equipment, and pointed out that the magnetic-sensor based instant medical diagnosis equipment was embracing a turning point and an explosive growth despite of no groundbreaking technology developed domestically and internationally.
With a keen market insight, Dr. Shi Xizeng realized that his technical strength in magnetism and electricity could be used in medical equipment to enhance the development of instant medical diagnosis equipment.
Therefore, he established a trans-national R&D team to unfold researches on the magnetic sensor based high-end instant medical diagnosis equipment project, and prepared for his new business after returning to China.
After returning to China with the technology and product idea of magnetic-sensing immunity analyzer in 2012, Shi Xizeng investigated a few cities for his project. He finally decided to establish Bosh Bio in Songshan Lake to start industrialization practices. Dongguan offers favorable entrepreneurship support policies and has a good administrative style that guarantees implementation.
After rigorous review, Shi Xizeng was honored as Type A Leading Entrepreneurial Talent of Dongguan City and awarded with RMB 5 million startup support fund. Later Songshan Lake granted him another RMB 5 million as startup support fund. The two funds were quickly paid in, which was very helpful for Bush Bio that burned money and made no money then. According to statistics, he has been accumulatively awarded with over RMB 30 million of support subsidies.
Shi Xizeng revealed that Dongguan offers a wonderful entrepreneurial environment and a complete industry chain. Supporting products for medical equipment manufacturing like automation equipment, electronic components and molds can be quickly found here.
Detect 240 Tumor Markers within 15 Minutes with a Few Drops of Blood
In the R&D Laboratory of Bosh Bio in Liaobu Town are three generations of magnetic-sensing immunity analyzers. The first generation magnetic-sensing immunity analyzer is designed with 20 detecting zones to detect 20 indicators simultaneously with a few drops of blood; the second generation analyzer is designed with 40 detecting zones to detect 40 indicators simultaneously with a few drops of blood.
According to Shi Xizeng, these two generations of analyzers have been massively produced and released to the market, sold to the South America, Southeast Asia, Europe and Africa. Bosh Bio magnetic-sensing immunity analyzers can be seen in the Nansha Islands.
Now Shi Xizeng s team is working on the third generation magnetic-sensing immunity analyzer which can detect 240 tumor marks within 15 minutes and diagnose more diseases.
Shi Xizeng further pointed that that medical equipment is subject to rigorous and time-consuming approval, regulation, trial use and procurement. The replacement of original technical products with new technical products is a slow process of acceptance. After several years of product debugging and optimization and market publicity, Bosh Bio will embrace rapid development this year.
He estimated that the output value this year would double and increase to RMB 18 million to RMB 20 million, and surge to RMB 40 million next year, and maintain a high growth onwards.
Shi Xizeng added that the remaining business departments of Bosh Bio in Songshan Lake would be relocated to Liaobu Town and 6 automatic production lines put into operation in the next 2 months. By then Bosh Bio will run at full capacity and usher in the first year of explosive growth.
Edited by: Huang Peiling
Source: Dongguan Daily