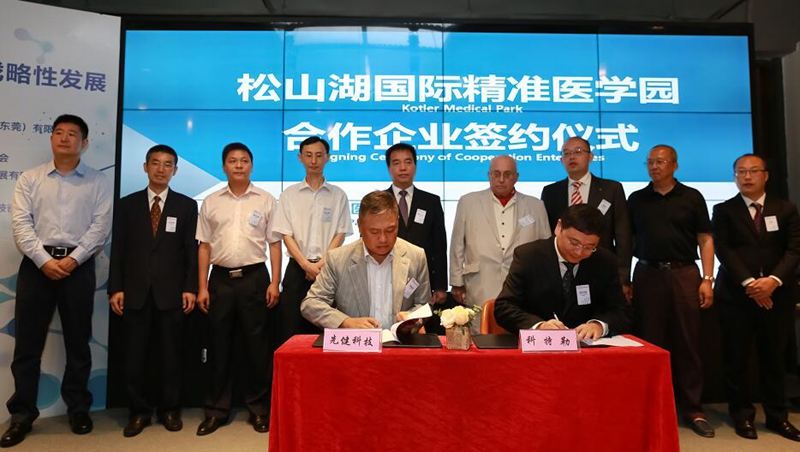 On June 10, Kolter Medical Park was officially launched. The first 7 domestic and international enterprises signed an agreement to enter Dongguan s first industry incubation park. Huang Shaowen, member of the Standing Committee and secretary of the Politics and Law Committee of CPC Dongguan Committee, and secretary of Songshan Lake (Biopark) Party Working Committee, attended the launch ceremony.
Establish an Accelerator for European Cutting-edge Medical Projects
Jointly established by Songshan Lake (Biopark), Kolter Marketing Group and Germany Medical Valley, Kolter Medical Park is intended to grow into an innovative center for cutting-edge medical technologies and transformation of precision medicine industry.
The Medical Park has a planned total floor area of 400,000 square meters, including 50,000 square meters in phase one and 15,000 square meters of laboratory area. It will provide ample room for enterprises to conduct innovative technological researches.
After an analysis on the developments of domestic and international bio-medical industry, 15 major projects are planned to be introduced into the Medical Park. MRCT and Germany Medical Valley will be taken as two pillar enterprises (organizations) to draw the entry of upstream and downstream enterprises to form a whole industry chain cluster integrating medical equipment, in vitro diagnosis, innovative drugs, medical education and training, medical and health services.
Germany Medical Valley is the global model for cluster-based development of medical industry. Kolter Medical Park will establish the development model of translational medicine featuring scientific research, industrialization transformation and clinical application as well. According to Cao Hu, president of Kolter Marketing China, the project will establish an accelerator for European cutting-edge medical projects in reference to the operating model of Germany Medical Valley, introduce relevant international research institutions and form industry cluster-based development.
Cao Hu revealed that the Medical Park will unfold the phase two development and construction centered on International Medical Valley Headquarters, Medical Technology Laboratory and Industry Accelerating Zone, Innovative Medicine and Health Management Demonstration Zone based on current carriers. Upon completion, it will become the new generation medical technology park integrating medical service, application development, talent training and laboratory light manufacturing.
Gather Over 100 Medical Technology Enterprises
Huang Shaowen pointed out at the launch ceremony that the biotech industry of Songshan Lake (Biopark) has expanded and formed a complete industry chain with 200 biotech enterprises in recent years. Now Songshan Lake (Biopark) will realize further development of biotech industry through precision medicine.
Statistics revealed that the 17 major biotech enterprises in Songshan Lake (Biopark) realized the total operating revenue of RMB 1.381 billion in 2016. The biotech industry is in urgent need of breaking points and precision medicine may be one of them.
Upon completion, Kolter Medical Park will provide quality incubation services for international cutting-edge projects according to planning. In the future, it will become a technical transformation center of precision medicine and a world-class medical technology park, and possibly an important link for the development of local precision industry.
At the launch ceremony, Thermo Fisher Scientific (China) Co., Ltd., PolyQolor, jjplus, Guoqing Beimu Chemistry, SwisCorporation, Oxchains Tech and Baode Biological Engineering first signed an agreement to enter Kolter Medical Park. These famous enterprises are engaged in multiple segments of medical technology industry and internationally oriented, demonstrating a major feature of the Medical Park.
In the future, Kolter Medical Park will be joined by over 100 medical technology enterprises. By then, it will truly realize the cluster-based development of precision medicine and possibly become a breaking point for the biotech industry of Dongguan.
Source: Dongguan Daily